Today we're announcing the launch of Legions: Overdrive.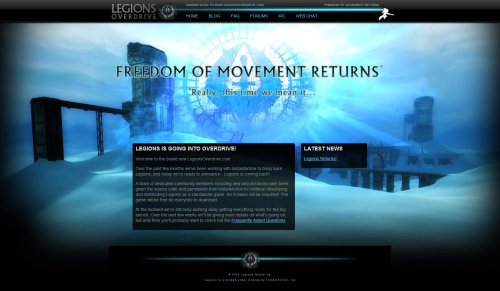 As Legions Players was just a temporary news post location until we got the Legions: Overdrive site ready, you should update your bookmarks to www.LegionsOverdrive.com.
Please visit the new site for more information on the future of Legions!
---
As the InstantAction forums are likely to go down at some point (we have no idea when), we've setup brand new forums for Legions:
http://forums.legionsplayers.com/
Please register and post all new topics there.
---
Penny Arcade Expo '09 begins labor day weekend. Are you excited? Well, you should be, because myself and BugsPray are heading up (in his case, down) to Seattle to run and cover Legions and PlayTribes BYOC tournies @ PAX.
As some of you may know I do my best to shoutcast Legions stuff from time to time. Well, if all goes well we will be broadcasting Legions and Tribes action directly to your home PC via the wondrous interwebs. At the very least I will shoutcast the tournies @ PAX and we will have some kind of VOD for you to watch later.
I'm personally ridiculously excited to see PlayTribes in person. I mean, I've watched QuakeLive grow and have massive success resurrecting the Quake III scene. Nothing would make me happier to see Tribes competition return with the pending release of PlayTribes.
I am also quite excited to cover Legions at a big lan. While there are some huge, gaping issues with the game (in particular observer mode, making it very hard to shoutcast *cough*) I am still a huge fanboy and want to see this game succeed on the main stage! I also know that a few Legions players will be in attendance, so I look forward to meeting you all.
Again, as the weekend progresses I be trying to deliver you, the fans, as much content as possible. To follow my trials and tribulations, as well as get LPRadio updates, follow LegionsPlayers Twitter and FishStix's Twitter.
Thanks, and see you at PAX09!
(*if you missed it, check our media player to view our first BFCL VOD: Week 1 on Mirrage - Team Jenkins vs. Team Finland)
---
New InstantAction CEO Lou Castle did an interview over at Gamasutra about his goals and aspirations in his new position. Here's a snippet...
Why did you join InstantAction?

Louis Castle: Taking a step back, it's really looking at the future of where games are going.

Games are always going to consumers, no matter what you do. There are always lots of different ways of getting them to the consumers. Clearly the best way to get entertainment to consumers is to get it directly to the consumers.

When I started looking at the ways that games are evolving, the kinds of markets, the incredible growth in social gaming, and seeing how well that fit together, it really became clear to me that I wanted to be involved in the social gaming space and the web distribution and gaming space.

I've done a little bit, obviously, over the years on all of these fronts, have made MMOs and things like that. So certainly I've been involved, but it certainly feels that the time has come. And that was really the impetus more than anything. I've had these very vague ideas of what kinds of things I might like to make; I'd like to build games around the social gaming platforms. Not to disparage anything that's out there, but the games are light.

I'm a gamer. I'd like to make richer experiences. Hopefully very easy-to-use experiences, like Boom Blox, which has a very easy-to-get-into but deep and rich experience as an entertainment experience. I'd like to build products around social networks and around a lot of different platforms simultaneously, and that was what excited me about the opportunity.
It's definitely exciting to hear some of his ideas. Go check it out!
Link to Article: Q&A: Former EALA Exec Castle On Plans For InstantAction
---
At the Intel Sacramento LANfest, InstantAction has shown up with their new "Overdrive" energy drink to promote Fallen Empire: Legions: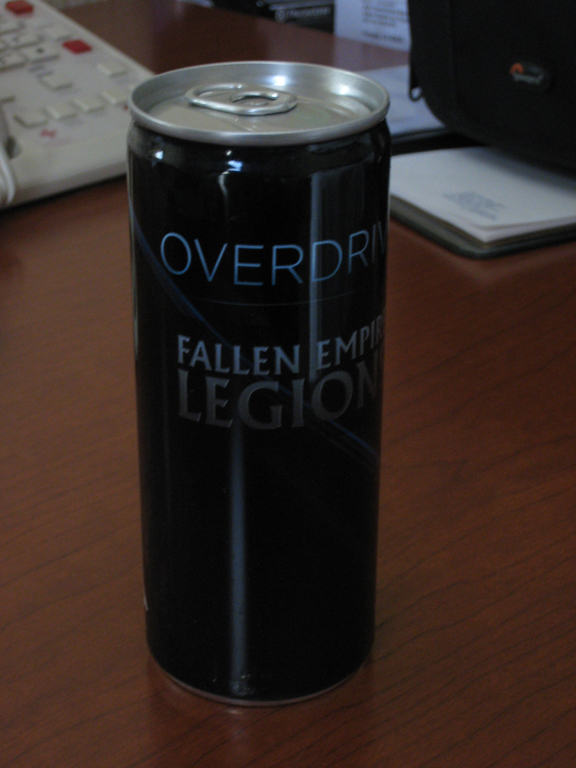 Looks pretty slick! I hear it tastes like Redbull.
Original Post: Who Wants to Enter "Overdrive?"
---
Here's the final comments from the LegionsBlog:
Wow was that a long weekend! It was awesome for us at InstantAction and I hope that everyone there enjoyed it. I would like to thank everyone that participated in our tournament. The exceptional turnout meant a lot to us. Also, to everyone that made the effort to come and talk to us about the game personally, I would like to thank you guys as well. To work on a game that you love and pour your heart into, to hear people get excited about it is precisely the reason we do this. It really is all about the fans. :)

The Tournament

We only brought 80 Legions shirts to the LAN to give to everyone who joined the tournament as I did not expect any more than that to sign up. We had such a high demand for it though, that we extended the amount we let in to be unlimited, giving the 80 shirts to the first ones to sign up. We ended up with around 125 people signing up!! With 24 teams playing, we had almost 6 hours of gaming the first night and had to hold off the winning match until the next day as it was approaching 4 am. The next match was held at 2pm the next day and shown on the main stage projector. I would say at least 50 people gathered chairs around to watch the action. It was a heated match, but team "Choppa 5!!" pulled out the win. Congratulations guys and I hope you enjoy the cases!


Choppa 5!! - Picture by "Slackin"

Kill BugsPray Contest

I brought up with me a t-shirt signed by the developers of Legions and we decided to run a little contest to give it away. You probably saw it in the previous blog post, but as stated before, he dominated the competition. Two people ended up getting one kill against him in the entire five hours we ran the tournament. In the end, one of them gracefully conceded defeat and CoolSpot ended up with the shirt.


It's good to be home, but at the same time, it's always hard to leave a place where everyone is having such a great time hanging out and playing games. Legions had a great showing and I'm hoping that I see a lot of those people online!
It's fantastic to hear about the amount of people who participated in the Tourney! Hopefully we'll continue to see those people around.
Original Post: PDXLAN Recap
---
From the IA Blog:
As previously announced, we will be introducing Legions skin, helmet, and voice pack bundles at a discount. Above is the first of many and will be available later this week.

Congratulations to Hardstyle_Pete for entering the winning bundle submission. Allow me to introduce Ra, the Egyptian Sun God Bundle! This includes the Sentinel Gold Skin, Spike Helmet, and Tribes 2 Robot Voice Pack. Unfamiliar with Egyptian mythology? Edumicate yourself.
Not bad Pete, not bad! We look forward to seeing more of these.
Original Post: New Legions Bundles on the Way
---
I think we can all give thanks that BugsPray doesn't play on zero ping on a normal basis. From the Legions Blog:
Over the last five hours, we've been running a contest here at PDXLAN with a prize of a t-shirt signed by the Legions dev team. All the winning person has to do is kill BugsPray more than any other player in a 5 minute match. Unfortunately, as you can see in the picture, the competition has been unable to do so very reliably. I'll post an update later once it's over.

Here are the current stats!

Bugs, tell me you won the computer and tell me you're going to donate it to your good old buddy from Arkansas! Otherwise, die. :)
Original Post: No One Can Stop the Bugs
---
From the Legions Blog:
Today we unleashed the Legions tournament on the attendees of the PDXLAN. We did not start until 10pm at night, it is 3:22am right now and we STILL have one match to go tomorrow!! We had an incredible turnout of 120 players in 24 teams. We are going to hold the championship match tomorrow afternoon and hopefully have it shown on the big screen at the center of the room. We are going to be recording that match so everyone can enjoy the EPIC battle that we know it will be. :)



Everyone Watching the Last Semi-Final Match

As most people know, I am also a person who LOVES energy drinks. Going to these LAN parties is almost like heaven as I get to drink an absolutely crazy amount of them. This LAN is already no exception. :P Here is a peek at what I've had so far in just a day and a half -



People that know me know that yes, this was all me. :D 3:33 am and going strong!

So until tomorrow afternoon, have a good night!
I think I speak for all of us when I say, "Derek can I have your computer when you're done exploding from all those energy drinks?"
Original Post: What A Tournament!!
---
Want a free skin, helmet, and voicepack? Easy! Create a combination of the three and give it a name that bundles the idea together and submit it for a chance to have it featured in the store and receive it yourself for free!
From the IA Blog:
In honor of the new Legions content, we'll be offering skin, helmet, and voice pack bundles next week. With over 500 different variations for each class, we could use your help. Choose and name your favorite skin, helmet, and voice pack combination. If chosen, your named bundle will be featured in the store and unlocked for your enjoyment. Head over to the forums and post your ideas before midnight Sunday, 7/26.

Pictured above is my "Girly Man" bundle which includes the "Snow" skin, "Bare" head, and "Tribes 2 Female" voice pack... He's pretty sweet.
Original Post: Name and Choose a New Legions Bundle
---
It looks like we're all missing out on loads of fun over in Portland at PDXLAN which is going on now. Our very own BugsPray is there as an intern for GarageGames. Have fun man!
Straight from the Legions Blog:
BugsPray and I have been holding down the fort now for around 12 hours. We've had a lot of help from some of the GG crew that came with us to play, but they've been great helpin out. So big thanks to everyone so far! Here are a couple images from what has gone down in the first 7 and a half hours of the lan.


Could that be? It is! Tribes in a browser is here!


Me doing my thing, writing "lan1.instantaction.com" on the back of every sticker. Riveting!


So far I think I'm down a little over 10 energy drinks so far today, I am going to be hating life in the morning. I don't know how many Bugs has had, but I'm sure it's more chemicals than a meth factory. We'll check back in tomorrow so stay tuned. :)
Original Post: A Little PDXLAN Excitement!
---
From the Legions Blog:
So a bunch of us from here at InstantAction are going to be going to Portland this coming weekend to attend the PDXLAN. We're gonna be running another Legions tournament this weekend, and here are the details!

Team size - 5 Man Teams
Team Limit - 15 Teams
Gametype - Team Deathmatch
Score Limit - 30 Kills
Time Limit - 15 minutes
Map Rotation - Frostbyte, Moonshine, Zenith Cauldron, Nivosus

The winning team members will ALL be getting a custom Legions-decaled Antec Mini P180 Black Steel MicroATX Mini Tower!

Everyone that participates in the tournament will also receive one of our very sought after and coveted black Legions t-shirts.

But, the big daddy prize, which we will give to a completely random participant in our Legions tournament is a fully-built, custom Legions-decaled computer. I know you want the specs so here they are -

Intel quad core i7

6 gigs of DDR3 1600 ram


Vista 64 with an upgrade voucher for Windows 7

2 raid hard drives (2x 640 gig WD black = FAST)

2 SLI Nvidia 275 video cards

Who is excited now? :D We will see you guys in Portland this weekend!!
If you live in the area and don't attend, repeat after me: I fail.
Original Post: Going to Portland This Weekend!
---
I've placed MungeParty's long-winded description of how, when, what, and why collision damage has been introduced into Legions into the Articles section here on LP.com. It's a fantastic read for those of you wondering where the idea came from and why it has been added to the game.
Check it out! Collision Damage - Why?
---
From the IA Blog:

Allow us to introduce three of the New York interns, MrGoodKat, haml3t, and soupnasty. They will be capturing in-game footage for the weekly top 10 video, featuring the best frags the community has to offer. Get in the game for a chance to be featured on the highlight reel.

They will be recording the action Monday through Thursday from 1:00 to 3:00 pm (eastern time) each week. Stay tuned to the InstantAction Facebook fan page and Twitter account for a direct invite link to the party.
I see they are requiring that I develop a cold between now and Thursday around lunch time. Amirite?
Original Post: Got skills? Show Em Off in the Weekly Top 10 Video
---
From the Legions Blog:
With the success of last weeks "Who Wants to be a Pirate" contest, we have decided that we are going to be holding a weekly contest giving away content. However, the contests are NOT going to be announced ahead of time. When they start, I will message the contest across all of our social media networks. So keep an eye out for our twitter pages, our facebook pages, and this blog for your chance to win free content every week! I will give out the party information through these avenues and the first people to join, beat me (or whoever is the chosen one), then say the magic words will get some free IA content. So keep your eyes peeled people because you never know when it's game time. ;)
I don't know about you but, I'm setting my phone to update me via Twitter, Facebook, and Blog posts right NAO!
Original Post: Weekly Contests for Keen-Eyed Users
---
Hey everyone! I've officially join the LegionsPlayers and LegionsPlayersRadio staff! I am very excited for the future of Legions competition and the e-sports coverage that shall come along with it!
As of now, the entire Legions community is hanging out in QuakeNet, which is fine and dandy. QuakeNet however is more EU specific. To facilitate the NA Legions community, I've registered #legions in GameSurge, and will register #lpradio on GameSurge as well if we get enough idlers. So add #legions to your preform and come hang out with me in irc.gamesurge.net, and remember to idle in #lpradio in QuakeNet.
There are many things that need to fall into place before LPradio can start covering matches on a regular basis but I assure you the day shall come, and it shall be glorious.
---
From the Legions Blog:
I know that staring at the hourglass icon can be about as much fun as being punched in the face by Oscar De La Hoya wearing porcupines for boxing gloves* so we tried to get rid of the infinite downloading bug ASAP. I am proud to say that this issue has been fixed and along with the leaderboard bug, those were the last remaining issues we had with the launch! So if you were unable to download before, I encourage you to head back over to the PlayLegions Facebook app and give it another go.

*Don't try wearing porcupines as boxing gloves, I hear they REALLY hate that.
Looks like they are taking good care of this Facebook App! It's pretty fun if you ask me. Good work, guys!
Original Post: Facebook Issues Resolved
---
So on my way from Los Angeles to Seattle, I managed to hop on one of ten Alaska Airlines planes that came equipped with inflight WiFi. For $5 you get access to a fairly fast wireless internet connection via satellite. It's pretty good for checking email and chatting, and Ventrilo works decently well too. And...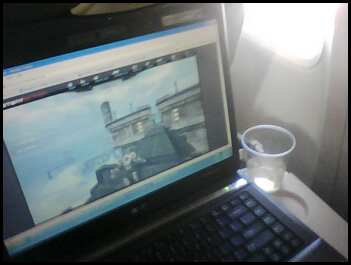 That right there next to the excessive bloom effect and an unfinished gingerale is a three-person Legions game hosted 35000ft over the Oregon-Washington border, traveling at over 400mph! If we add that to my 200m/s route, I'm pretty sure that makes me the most unchasable capper ever.
---
Woe is me and everyone else who didn't call in sick to work today! It seems Dynamic_Derek has been busy giving away prizes!
Straight from the Legions Blog:
UPDATE: The contest is over and we have three winners! Congratulations to the following three IA players -

Gamethief19
kasityolainen
MightyDeath

You guys can all be pirates now as I have unlocked the Raider Pirate skins in you accounts. Thanks to everyone for playing and I look forward to doing another contest like this!

---

I am currently logged into IA right now, under Dynamic_Derek of course, and I'm playing me some Legions. The first three people to find me, kill me, then say the words "I wanna be a pirate!" in the in-game chat, we'll give you the Raider Pirate skin!! I imagine this is going to be fast, so get online and kill me because really, who doesn't want to be a pirate?
Original Blog post can be found here.
---
From the Legions Blog:
We had a TON of awesome, destructive pics submitted on the Legions Facebook fan page. This sounds cliche but we had a hard time picking the very best out of the 80+ submissions. Congratulations to:


NightHawk043


Desperado1


Gamethief19

Enjoy the new Outrider skins and helmets!
Congratulations to the winners on behalf of the LegionsPlayers.com staff!
---
From the Legions Blog:
I know everyone is itching to know just what is going on here, but rest-assured your questions will all be answered tomorrow. Have a gander at this bad boy in the meantime, but remember to put on a bib to catch your drool. ;)

People people people! Facebook, Legions, Zenith, and Time Trial! When did I die and how did I get to heaven?
More coming tomorrow...Stay Tuned!
Original Blog Post Found Here
---
From the IA Blog:
In celebration of the new Legions content, we are holding yet another Facebook photo contest. Since we all love explosions - I dare you to find one person who doesn't - we figured everyone would enjoy some destructive pics. Your mission is to take an in-game screenshot of the biggest and most creative explosion. Upload your picture to the Legions fan page and tag your character with your Facebook profile name. In addition, add a "comment" with your InstantAction username (so we know who you are).

The three best submissions will be awarded the COMPLETE set of Outrider skins and helmets. The deadline is 7/6 so keep your finger on the "print screen" button and blow stuff up!
Get your photoshop goin' and win some skiiyunnz!
Original blog post: Legions Facebook Photo Contest - Win ALL the Outrider Gear
---
I'm going to let Dynamic_Derek do all the explaining:
Today is a very special day for everyone here at InstantAction, especially the guys on the Legions team. The update at 8:30 am PST has been a long time coming, and when you see everything we've included, you'll see why. We've put a lot of long hours into this update and are extremely proud to present to you all of the following changes. I hope you enjoy them as much as we enjoyed creating them. :)

June 30th Update:

General Gameplay
-player collision damage added
-raised first-person camera position for all classes slightly
-tweaked classes a bit (mass/thrust/overdrive)
-added several new loadouts for each class
-general weapon balance
-added observer mode
-added a fix for the hot-swap exploit
Click "Read More" to see the full list of changes.
---
Looks like along with some happenin' skins next week, we'll also be getting a new map! Take a look at this post from the Legions Blog on InstantAction, and see the video of the flythrough:
In preparation for the large update next week, we are going to give you a flythrough peek at the new map "Forgotten." As an additional bonus, you will notice that this is not your normal Raider character going through the map. We've attached on the "Pirate Skin" to him along with the new "Skull" helmet. Take a peek at what you will be able to run around on next week!


Forgotten With New Raider from InstantAction on Vimeo.

This is the new Legions map "Forgotten" being shown using the new "Pirate" Raider skin. This map, along with the new skin and helmet with be available next week on www.instantaction.com!
Original blog post: Forgotten Has Not Been Left Behind
---
From the InstantAction blog:
Next week we'll be introducing Dedicated Servers for Legions in Australia. Those folks down under have been asking for a while now that we get dedicated servers up, and can finally rejoice in the fact that they'll be able to play Legions smooth as butter. That means no more blaming lag on your mid-air misses. Prepare yourselves.
It's finally time that our friends from down-under got some smooth playin'.
Original blog post: Australian Dedicated Servers
---
From the InstantAction blog:
Hey everyone, we're very excited to announce that new content for Legions is coming next week. What will you find in Legions next week? Well let me run through some of the new stuff (more to come later this week).
New Voice Packs:

12 new voice packs - including Tribes voices (male and female)

Helmets (pirates, cyborg-style, and general bad-assery):

5 Raider Helmets
4 Outrider Helmets
4 Sentinel Helmets

Skins (Self explanatory):

6 Raider Skins
6 Outrider Skins
6 Sentinel Skins
These skins look great and should provide some good monetization value to Legions!
Original blog post: Legions Content Coming Next Week
---
Recently InstantAction announced the future arrival of a Facebook application for Legions that allows players to play the single player version of Legions (www.PlayLegions.com) through Facebook. Here's a screenshot of the leaderboards that will accompany the single player time trials: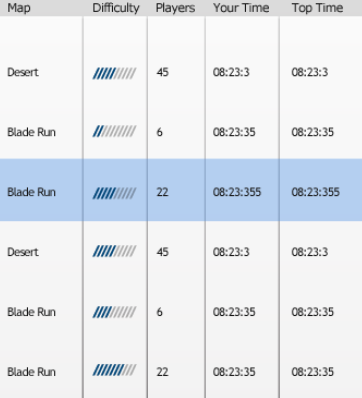 Link to IA blog post: Leaderboards, Oh My!
---
It's been a month since our last update, but rest assured LegionsPlayers fans, we are still here! We've been hard at work fixing up some crazy stuff that we cant really tell you about, because if we did we'd have to actually complete it in a timely manner.
---
The_Phroo and OmniRizzle have written up some excellent guides on the basics of Capture the Flag and Team Deathmatch. Phroo's CTF guide runs through flag awareness, game states and the various positions that are usually used. Rizzle's TDM guide walks through the loadouts, covering your teammates, using objectives to your advantage, and movement.
Head on over to the Articles section and read up to improve your skills!
---
For those of you interested in Twitter, you'll probably be pleased to know that we've now setup a Legions Players account, available at twitter.com/LegionsPlayers.
Never heard of Twitter before? It's a micro-blogging site which allows you to post status updates and various other little bits of information about yourself, however it's all limited to 140 characters! There are plenty of clients for different operating systems and mobile phones - chances are you should be able to stay updated with everyone else.
A few other interesting Twitter accounts related to Legions include PlayLegions, InstantAction and GarageGames, you might want to follow them too!
Any news postings will be sent to Twitter, as well as other little news bursts such as match results, interesting forum threads, and any other little bits of information we think might be useful but not be quite worthy of a full news post on the site. So don't forget to follow us at twitter.com/LegionsPlayers!
---
For anyone lucky enough to attend the Games Developers Conference, it looks GarageGames has plenty of things to show off to the public. This Wednesday at 4PM PDT they'll be doing a special demo of PlayLegions at GDC.
The full schedule is available here at GarageGames website. We'll be trying to cover some of the most interesting bits from GDC for those of us unable to attend, the various PlayLegions and possibly some PlayTribes stuff too - so keep checking this site for updates!
---
"The PUG (pick up game) Circuit is where the best Legions players come to sharpen their fangs. The tightest team play and best parts of the Legions community are never asleep in the channels of IRC and Ventrilo; you can always find a game." --InstantAction.com
ThePhroo has compiled everything you need to know about playing in pickup games (or PUGs) and put it in the LegionsPlayers.com Pickup Guide. There's a link to it on the sidebar, or go to it directly: http://www.legionsplayers.com/articles/pickup-guide/
Hopefully we'll see some of you in some PUGs soon!
---
Looks like a new map is coming soon to Legions, it's another map by AelxProter and it's called Forgotten. No release date has been given yet, but the map has been finished so hopefully we'll see it soon.
You can check it from our video archive here, along with various other videos.
---
The first version of PlayLegions is finally up and running at PlayLegions.com - go check it out! This release is just the start of PlayLegions and currently only features single player modes.
First up we've got the tutorial mode:

Hopefully we'll have no more new players asking "how do I fly?" in public servers! The tutorial mode goes through basic movement to show new players how to get started in Legions, moving around, jumping, skating and jetting through the air.
Next we've got the time trial mode:

See if you can get the fastest times on Nivosus or Frostbyte. Fly through the green rings as fast as possible on one of three difficulty settings to see if you can get the fastest time!
Remember this is just the start of PlayLegions. More features will be coming eventually - watch this site for more details!
---
We've managed to scour the web for this exclusive screenshot of what appears to be the PlayLegions front page...

Click to see the full image.
Looks gorgeous and it's dedicated to one thing only - Legions! I've added it to our gallery in the PlayLegions area, where we'll hopefully be able to show you more soon!
Update 21:26 UTC - Looks like another screenshot has been leaked...

Click to see the full image.
This time it's a full sized screenshot, and it certainly looks nice!
---
Many of you have been wondering what's going on with InstantAction, especially the previously mentioned InstantAction 2.0. This weeks episode of the InstantAction Podcast (episode 34) has a pretty big announcement, if you just want to skip to the announcement in the podcast then go to 11:58 into the MP3.
Those of you who are to lazy to listen to the podcast - read on for more info!
---
A new Legions trailer has been released today, this video features a sound track from the upcoming Lamb of God album Wrath.
You can check it out here, but don't forget to check out some of the other videos from our video archive!
---
Another Tuesday InstantAction update brings us a new build of Legions, with the following goodies:
- The Core, Quarry, Zenith Cauldron makeovers
- Map spawn bug fixes
- Permanent flag indicator, for when the flag is dropped
- GLS class removed
- Duplicate flag fixed
Whilst I'm sad to see GLS disappear, hopefully it'll be best for the balance of the game.
Have fun ingame!
---
We've got a brand new build this week with a new map - Mirage.
Mirage is a fairly large desert map with very nice looking bases, each side has a rainbow arch and there is a small tunnel network in the middle which is more suitable for deathmatch.
One of the other changes this week is an improved version of Moonshine. The central passage has been removed and replaced with a much wider open area, a vast improvement on the previous version.
Go and join the action!
---
Tuesdays are now InstantAction update days, this week we've got a brand new build of Legions. The Core is a brand new map with this release, after months of waiting it's finally here to play. If you've never seen it before then take a look at it on our gallery.
The other good news with this update is the introduction of European servers! A variety of servers hosted from London, United Kingdom are up on the list of servers.
What are you waiting for? Go play!
---
Looks like Blitz has been busy with Fraps again, he's released Clutch 2 which I've added to our video archive.
Lots of midairs, plenty of sniping, nice gameplay footage from some of our old favourite maps and some of the new ones too! Go check it out.
---
This episode of Under The Hood comes as a video, so I've added it to our video archive - Under The Hood - Episode 2.
Buhlitz shows us around the two new maps with some improvised routes on The Core and One Small Step. Hopefully these maps will be coming out in the near future, so why not have a look and see what's coming up?
Give your feedback for these maps on the forums.
---
The final five players in the cap king contest have been revealed. BugSpray, HLMornaVal, Belthoz, ChaoticPrime and Twisted-Demon have submitted the fastest videos - now all they have to do is repeat their performances infront of the InstantAction staff!
Good luck to the finalists.
---
Are you a speed demon of Legions? The fastest capper on the server? Now's the time to prove yourself!
Take part in the Legions Cap King Contest! You'll need to take a video of yourself playing an Outrider on the new Quarry map, upload the video and submit it on the forums. The fastest 5 players will be invited to recreate their routes infront of the InstantAction staff on a server. Winner of the contest will get an exclusive cap king avatar.
You've got until Thursday 13th November to submit your videos. May the fastest player win!
---
Feels like we've been waiting forever for the new build with quarry, but it's finally here! New features of this build include:
New map - Quarry.
New voicepack - Cyborg.
UI updates.
New motion trails (optional, can use the old ones too).
Outrider has a chaingun.
Sentinel weapon order fixed to match other loadouts.
Various grenade effects modified.
Flag reset timer now 30 seconds.
Along with plenty of bug fixes as usual. Get onto InstantAction and get playing!
---
Looks like it's time for another episode of our favourite developers news - it's WTF DEVS?! - episode 3. Fresh from this episode:
Staff changes! The project lead heatmiser is moving off the project to work on other things at GarageGames. Don't worry though, justind is joining the team as the new project lead and UI programmer, xgalaxy will also be joining the team soon.
The brand new map called Quarry will be coming in the next build, I'm sure everyone is keen on seeing brand new maps - hopefully this one won't disappoint. We also get a quick update on Mirage, a new sand map coming soon.
Go check the forum for WTF DEVS?! for more information and updates!
---
Sometimes you come across videos which show an enormous amount of skill - and this is one of them. I've added BeeHay's Snipe Film 2.0 to our video archive.
It's only a 2 minute video, so it's certainly worth watching.
---
Players have been busy voting all week for the name of the new desert map coming soon - the results are now in.
First and second place were very close, Nairabi managed to get 33 votes, but Mirage is the winner with 35 votes. It's official, the new desert map will now be known as Mirage!
Hopefully we'll be seeing more of Mirage in the future.
---
The recent updates to InstantAction has finally given us some more hosted servers located on the east coast of the US! Instead of being forced to play on laggy west coast servers players can now pick from a variety of servers located in New York.
This is great news for some of us Euro players, as it should mean a 100ms lower ping.
---
Everyone has been busy submitting their favourite names for the new desert map, but now's the time for everyone to vote for the best name from the list. A total of 15 map names are available for you to choose from, everyone can vote on the forums.
Votes close Saturday 18th October.
---
The Legions developers are busy working away on new maps, one of them being a brand new desert map. They haven't got a name for it yet, so it's up to you to come up for names in Name that Legions map!
I've added the screenshots in our gallery and a video of the new map in our video archive. Go have a look and see if you can come up with a name.
The top five names will be chosen by InstantAction staff, we'll get another chance to pick the best one in a weeks time. Until then you've got to submit your favourite names on the forum.
---
Buhlitz has kindly brought us some interesting updates on the forum in his first episode of Under The Hood.
I've added all the images from this instalment into our gallery. You can find some nice screenshots of the new upcoming maps - The Core, Quarry and One Small Step. Hopefully we'll be seeing more of these maps within the next few months once they're finished and added to future versions.
Go check the forums for the full details.
---
Another episode of WTF DEVS?! has been released by MungeParty - go and check WTF DEVS?! - Episode 2 on the forums. Fresh from this episode we've got:
Content liasons! AelxProter, Buhlitz and DeadGuy have been promoted to official content liasons, thanks to their great effort with creating new maps from Aelx and Buhlitz, along with DeadGuy analysing many parts of the game.
Performance changes are coming in the upcoming build, many aspects of the game have been tweaked to try an improve the performance of the client as much as possible. With the improvements made we'll be seeing 32 player dedicated servers soon.
Go check out the forum for the latest WTF DEVS?!
---
MungeParty the lead designer is introducing us to WTF DEVS?! - the start of a regular column written by himself to try and bring various development updates to the community.
The majority of this edition of WTF DEVS?! goes into detail about new HUD developments, new visual elements are being added to make things a bit easier for us - such as new reticles. The sentinel is coming up for player testing shortly, an addition which many people are looking forward to. More dedicated servers should be coming soon, but as always we have to wait a little bit longer!
Check out the forums for WTF DEVS?!
---
Some news from the latest InstantAction newsletter, a Fallen Empire: Legions pre-order will be available soon. The ActionPass for Legions is for 1 year with unlimited playtime, however the pre-order will also give a 25% discount, 6 avatars and access to a developers forum.
No dates are available for the pre-order or the final launch.
---
A new class, quickchat improvments and various bugfixes - read on for more details.
- New armour class - Outrider
- New quick chat phrases along with two sets of voices
- Option to disable quickchat sounds
- Chat bug fixed which was causing alignment problems at the end of a game
- Chat bug fixed which was overriding quick chat entries
- Quick chat flood protection
- Grenade launcher has a greater muzzle velocity and greater arming delay
- Rocket launcher specialist remote detention now has lower damage and quicker damage falloff
- Laser rifle beam exploit fix
- Bug fix for jets will no longer drain when charging a laser rifle
- Team kill penalties, team killers will have increased spawn durations for each team kill
- Suicide kills, suicide within 5 seconds of an enemy damaging you will award your enemy with a kill
- Overdrive death explosion is now back
- New death messages in the status window
- Players no longer heal whilst holding a flag
- Permanent flag holder indicators (temporary until HUD display is improved)
- Improved friend/foe/flag-carrier indicators
- Desert terrain tweaked near the blue base for balance
Quite a few tweaks in this build!
---
As mentioned yesterday we've got a brand new video showing some of the maps coming to Legions in the future. Go check out the video archive for the new video - New Legions Maps!
A total of seven great looking maps, all with exciting and fresh themes. No release date has been given yet, quite a few of these gorgeous maps are still in the alpha stage. Go check out that video now!
---
Looks like another fan site is now up and running, Joshua has emailed me to let you know about IAPlayers.com. It's a portal dedicated to all of the InstantAction games, with news and forums covering anything and everything about InstantAction. Go check it out!
---
The next release for open beta is coming shortly with some new maps.
First up we've got Frostbyte, it's a fairly small snow map which would probably be ideal for deathmatch games. Secondly there is Blade Run, an insanely large map mostly suited to CTF, it's great for long runs and building up lots of speed.
A few bug fixes are in as well, including the removal of suiciding players causing damage.
Just as a small teaser, more maps will be coming soon. Keep an eye out for a video coming soon, you won't be disappointed!
---
For all Euro players who are desperate to try and get some decent games going for lag free matches, meatsplitter has taken the role of organising pickup games. Full details available here.
Thursday at 19:00 UTC (currently 20:00 BST and 21:00 CEST) is Euro pub night, all matches are organised in the #legions.pub channel on Quakenet. Make sure you've downloaded Ventrilo as well, preferably with a working microphone as well - all games require voice comms.
Players from other areas are welcome, but the game will be hosted on a European server.
---
Looks like Blitz has done it again with another great video. Go check out Velocity 2 from our video archive.
One of the most difficult aspects of the Tribes series which many of us old players have enjoyed is the skiing. It's the one skill which is worth mastering and it's also an important part of Legions. Many people have criticised the physics in Legions during beta, however I think this video shows off the recent changes made as well as what you can achieve with plenty of practice.
---
For those of you who are new to Fallen Empire: Legions - go check out the latest video from our video archive. The Legions Survival Guide is a 10 minute guide on how to get started in Legions, going through the movement, combat and gameplay basics.
Credit goes to Buhlitz for creating the video.
---
Fallen Empire: Legions has finally hit open beta today, closed beta has come to an end.
Anyone who signs up for InstantAction can instantly play in the Legions open beta for free. Invite your friends, get them playing and have fun!
---
Open beta is due to start in 5 days, the InstantAction blog is now teasing us with 5 New Screenshots of the brand new map called Desert. It's about 4 times larger than the existing maps and should bring more playability into larger games on the new dedicated servers.
I've added them to the gallery under Desert Teasers - go check them out.
---
It's official, the planned date for the real open beta (not the current closed beta with semi-open invites) has been set. Get ready for Tuesday 24th June!
As for recent updates, we've finally got the first stage of the long awaited dedicated servers. If you see one of the Shazbots on the game lists for Legions then you'll be connecting to a dedicated server located on west coast USA. More updates should be coming to them during open beta.
---
A brand new trailer has just been released which we've immediately added to our video archive, it's the May 2008 trailer. Nothing particularly new in this video, but I'm sure it'll spread the word that Legions is coming soon.
Shacknews has also spent some time playing Legions and is giving their hands-on impressions of the game. So far they seem pleased with the game, even though Legions is missing certain things they're optimistic for the future of the game.
---
Some news from the live chat with MungeParty - GarageGames has created an email address to register for the Fallen Empire: Legions open beta. Send a blank email to felopenbeta@garagegames.com from the same email address which you've registered with on InstantAction.
After emailing you should receive a reply within a few minutes saying that you've registered and will be contacted once the open beta is live. So go send that email now!
---
The latest announcement for MungeParty's chat session seems to contain a little bit too much information! If you highlight the text of the post you'll find a hidden clue which might be related to an announcement we're expecting tonight.
Thanks to Beggin-Strips for pointing this out. Check out tonights live chat for the full details.
---
InstantAction and Ustream have organised another live chat with one of the Legions developers. On Thursday 1st May at 22:00 UTC, 23:00 BST (UK) you'll have the opportunity to ask your questions to MungeParty (Thomas Buscaglia), the lead designer of Fallen Empire: Legions.
Make sure you get your questions ready for this Thursday!
Sorry for the lack of news updates this month, it really has been a slow month for updates! Beta is going well, but sadly we're unable to bring you many updates as we're still currently on closed beta with restrictions preventing details being released. Hopefully we'll soon be able to give you the full details near the end of closed beta or once open beta starts.
---
Some more good news for those of you entering the Shacknews contest - the deadline has been extended until the end of today (Wednesday).
---
Shacknews has announced their own Fallen Empire: Legions competition to enter the beta, you have to photoshop Legions related images!
---
If you haven't been checking out the latest videos then go take a look at our video archive.
---
The InstantAction media empire has grown even further, Fallen Empire: Legions has a brand new blog.
---
Are you desperate to beta test Fallen Empire: Legions? If so then start inviting your friends, InstantAction has a Fallen Empire: Legions beta contest!
---
This Thursday 20th March at 3PM PDT, Ustream.tv will be hosting a developer chat session with members of the Legions development team.
---
Many thanks to Zhou for pointing this one out. Joystiq has a video on Fallen Empire: Legions, as well as a look at Cyclomite from the recent GDC conference.
---
Some more InstantAction related news, InstantAction has finally moved into the open beta stage.
---
Shacknews has got a brand new article by Chris Faylor - Fallen Empire: Legions Hands-on Impressions.
---
A couple more websites have brand new GDC videos.
---
After seeing this I'm in excitement overload! InstantAction has a brand new Legions trailer on the main www.instantaction.com website.
---
GarageGames have been giving presentations on InstantAction over the past two days and various little bits of news seems to be hitting websites. We've got some of them here for you!
---
Looks like Dr Wiley has managed to get a few of the GarageGames team on the brand new InstantAction TV. Take a peek and you'll get to see a few people from InstantAction in their video postcast.
---
On Legions Players we'll be taking a look at various aspects of the game in our news articles, trying to explain how certain things work. Some of these things are likely to change, but we'll try our best to give you an accurate view of what you might expect.
Our first indepth look will be the sniper rifle.
---
Looks like we've managed to get a few brand new images, many thanks to Tim Aste for providing them!
---
Looks like the GarageGames team are currently busy working away, preparing themselves for the Game Developers Conference coming next week. Quite a few games will be on show for the conference, as well as a few other things GarageGames will be showing us.
---
We'd like to welcome you to the brand new Legions Players website! After many days of gruelling development of the site we're finally live. We'll be following the latest news on GarageGames' upcoming game - Fallen Empire: Legions.
For those of you who haven't yet heard about Legions we'll take you through a quick overview of the history of the game.